Hello my readers and fans, I am so honored to announced the on Sunday, January 16, 2011 I, Esteban Escobar was Nominated For A Shorty Award In The Category of Journalist. I am known as Esteban Steven Escobar,
Editor of Diversity News Magazine, Writer for Examiner.com, Public/Media Relations and Online Social Media Networks Specialist.
I ask you to please vote for me it is easy just click on the picture or this link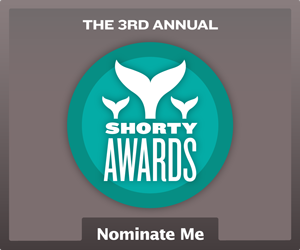 Nominate
Esteban Escobar
for a
social media award
in the Shorty Awards
LINK:
http://shortyawards.com/DiversityNewsEE
About The Shorty Awards:
Hollywood has the Oscars. Broadway has the Tonys. Now Twitter has the... Shorty Awards
The Shorty Awards honor the best people and organizations on Twitter and social media.

Nominations may be made through Twitter and this website, culminating in an awards ceremony that recognizes the winners in dozens of official categories, as well as thousands of crowd-sourced categories. For the first time, the Shorty Awards will also honor the industry's best agencies and social media professionals.
About Esteban Escobar AKA Steven Escobar:
Esteban Escobar was born in El Salvador, Central America. He came to the USA at the age of 14 years. He went to Junior High School, and then graduated of U.S. Grant High School in 1994. In High School he joined the Yearbook Staff as People Editor and he founded
News/Noticias
, a bilingual (English and Spanish) publication. Later he enrolled at Los Angeles City and Trade Tech Colleges where he study
Journalism
. At Los Angeles City College he joined
The Collegian
Newspaper where he wrote News, Entertainment and even Sports stories. At Los Angeles Trade Tech College Esteban wrote news and features stories for
Trade Winds
, a student newspaper. Esteban worked for a Spanish publication named:
L.A. Unidos
(L.A. United), another consumer news magazine. In 2003 Esteban register Diversity News Publications website. Esteban started networking with major public relations agencies to get added to media/press distribution databases to receive press releases and cover events. At the middle of 2009 Esteban Escobar decided to make DiversityNewsPublications.Com, a consumer news magazine. The website was redone with couple sections. He then started covering major Hollywood events such as
AIDS WALK LA 2009, The 2009 Outstanding Emmy Awards Nominees, CSW 2009 LA Pride, 2009 San Diego Pride, The Kierrah Foundation Spotlight on Sisters Awards.
Esteban Escobar writes features, fashion, movies premiers, news and entertainment stories. Recently he covered a pre awards celebration for the People's Choice Awards. Esteban Escobar knows how to write stories without including his opinion. He knows how to edit photos and videos. He can uploads them to the web and uses social media networks such as Facebook, Twitter, MySpace, LinkedIn, Yahoo Buzz, Blogger, Current, Reddit and Digg to submit stories to show on search engines such as GOOGLE.
Esteban Escobar has been networking with other media/press professionals including public relations agents. He gets invited to cover events to publish them on DiversityNewsPublications.Com and other sites. Esteban Escobar has been working as Public/Media Relations Specialist. He knows whom to contact when he is interested in covering an event and file any necessary media credential applications.
Esteban Escobar have met couple Hollywood celebrities, political leaders and personalities the likes his media coverage and his professional ethical work. He has been in the USA since 1989 and has 2 sisters and mother. Esteban Escobar is known as "Steven" and he resides in Los Angeles County in the city of Hollywood, CA.